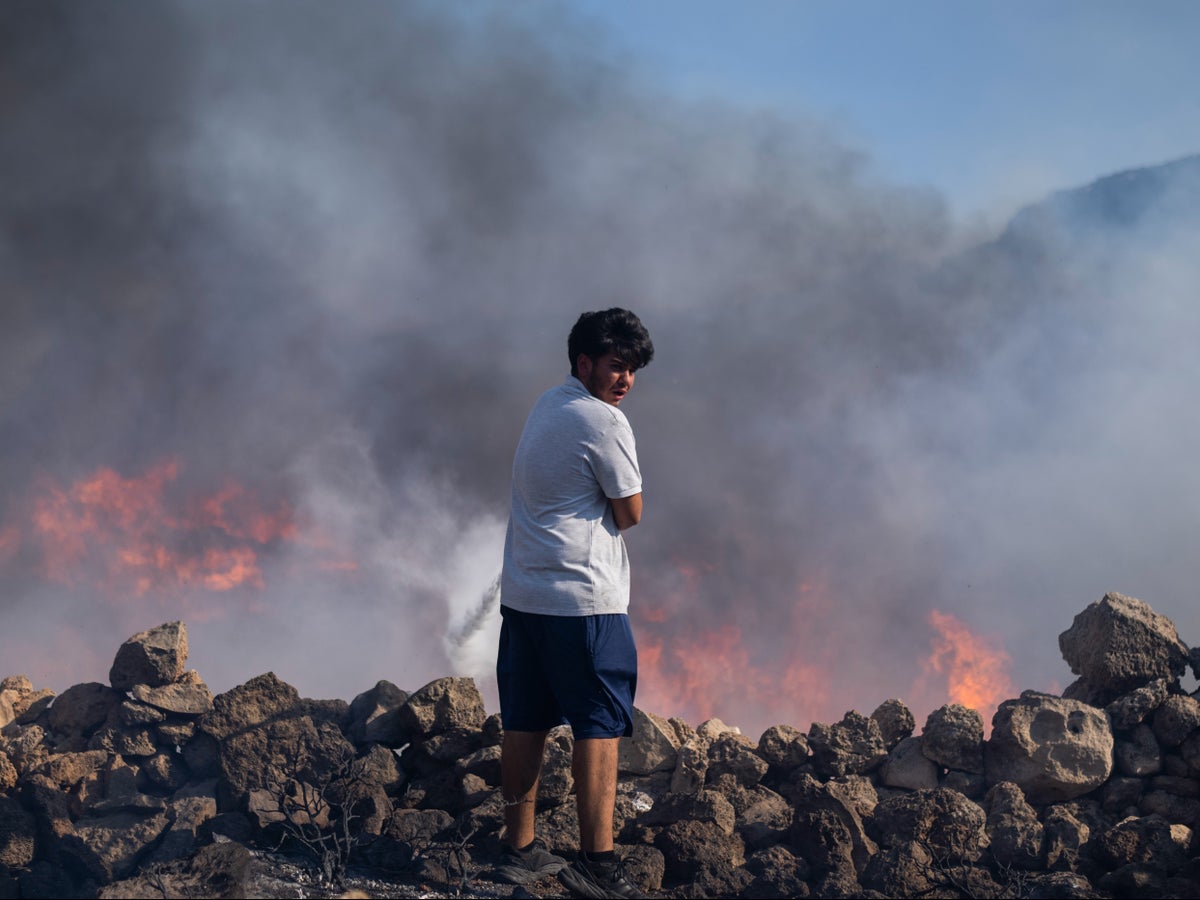 British airlines are battling evacuations to bushfire-ravaged islands of Rhodes and Corfu, stranding up to 10,000 British tourists in a 'living nightmare' as a new red alert is issued for Crete.
The two largest holiday companies Tui and Jet2 have canceled all flights to the island in the coming days after holidaymakers were forced to flee their hotels to sleep on the floors of schools, airports and sports centers – but other companies, including Ryanair, Thomas Cook and easyJet continue to ferry tourists who want to fly to Rhodes.
The popular destination of Crete was also placed under a "severe" fire warning on Monday, with Greek Prime Minister Kyriakos Mitsotakis telling parliament it should be on "constant alert" in the coming weeks. He declared his country was "at war" with the fires and warned of three more "difficult days" before the sweltering temperatures subsided.
"The climate crisis is already here, and it will manifest itself everywhere in the Mediterranean with even greater catastrophes," said Mitsotakis, just a week after multiple infernos blazed near Athens, destroying homes and businesses, and after days of temperatures soaring to 45C.
Prime Minister Rishi Sunak urged holidaymakers to stay in touch with tour operators, but the Foreign Office has so far not discouraged Britons from traveling to Greece, and some 26 flights took off from UK airports to Rhodes on Monday.
Leila Moran MP for the Democrats urged the UK government to "get to grips", with Tory ministers' "inaction" as she warned that current advice leaves families unable to claim their insurance, meaning they have had to "(pay) a decision not to travel penalty" to Rhodes.
More than 2,000 holidaymakers have been repatriated so far in what has been described as the largest evacuation in Greek history, with more flights on Tuesday as the deputy mayor of Rhodes warned the fires remained "out of control" seven days after they started.
Helen Tonks, a mother-of-three from Cheshire, has accused travel company TUI of pushing her into a 'living nightmare' on Saturday night, she said. the sun She lands in Rhodes only to be informed that her hotel has already burned down. The company has now canceled all flights to the island through Saturday.
Claire Jones, 36, from Leicestershire on honeymoon with her new husband Paul, was evacuated by coach over the weekend on a 'harrowing' journey as holidaymakers fled their hotels on foot carrying babies and young children, with some reporting walking 10 miles in the sweltering heat.
Raising the fire risk in Crete to its highest warning level on Monday, Greek authorities also placed large areas of the country under a "very high fire risk" notice, including Athens, Peloponnese, Karpathos, Kalymnos and Kos.
While authorities have suggested the Corfu fires could be the result of arson, the UK's former chief scientific adviser Sir David King warned on Monday that millions of British tourists planning a Mediterranean holiday this summer should consider Greece a "big, big warning".
Sir David lamented that "many people will die of heat stress" due to the extreme heatwaves hitting southern Europe, and said he had "no doubt" that extreme temperatures were due to melting Arctic ice caused by human-led climate collapse.
Temperatures in Rhodes are expected to reach 40 degrees Celsius by Wednesday, as Greece faces its longest heatwave on record. The European Union's Civil Protection Agency deployed around 450 firefighters and seven aircraft from Bulgaria, Croatia, Cyprus, France, Italy, Malta, Poland, Romania and Slovakia.
But the travel industry appears to be paving the way for tourism to resume in some unaffected areas.
A spokesperson for the travel association Apta said: "We understand that the Greek authorities have canceled the evacuation order for some resorts, and people have been advised that they can return to the resorts of Lindos, Pefkos and Kalatos.
"Travel companies will communicate with accommodation providers to ensure they are ready to receive customers and customers will be notified accordingly."
Chris Elworthy, a 42-year-old farmer from Faversham in Kent, said he was left with £10,000 out of pocket after EasyJet flights were canceled to access a private villa in Pefkos with his wife and two children.
"Now we're £10,000 out of pocket; easyJet absolutely no help with the trip, even though they promised on Twitter they would offer a voucher or another flight… 24 hours later they've done nothing."
"The villa refuses to refund us and the holiday insurance says we are not covered because we did not have additional cover against natural disasters in addition to the normal cover."
Dan Jones, a sports teacher from Torquay who had to board a fishing boat with his sons to escape the raging fires on Saturday night described it as the "scariest moment" of his life and added: "What brave young men".
Foreign Secretary Andrew Mitchell estimated between 7,000 and 10,000 British tourists were in Rhodes at the height of the holiday season, and told LBC that reports that holiday company representatives appeared to be "missing" were a "deplorable state" that the government would investigate.
But he defended the lack of advice against traveling to Rhodes, saying the fact that "only 10 percent of the island is affected by these fires" means that tour operators are "the best to provide guidance as to whether or not these events will ruin family or individual holidays".
Downing Street has advocated not discouraging people from traveling to Rhodes, although a team has been sent to help holidaymakers affected by the fires.
The Prime Minister's official spokesperson said: "The current situation affects a limited area of ​​Rhodes and while it is right to keep it under review and the advice could change, we do not want to act in proportion to the situation on the ground."
He added that there were "currently no" plans to have the RAF help people leave.