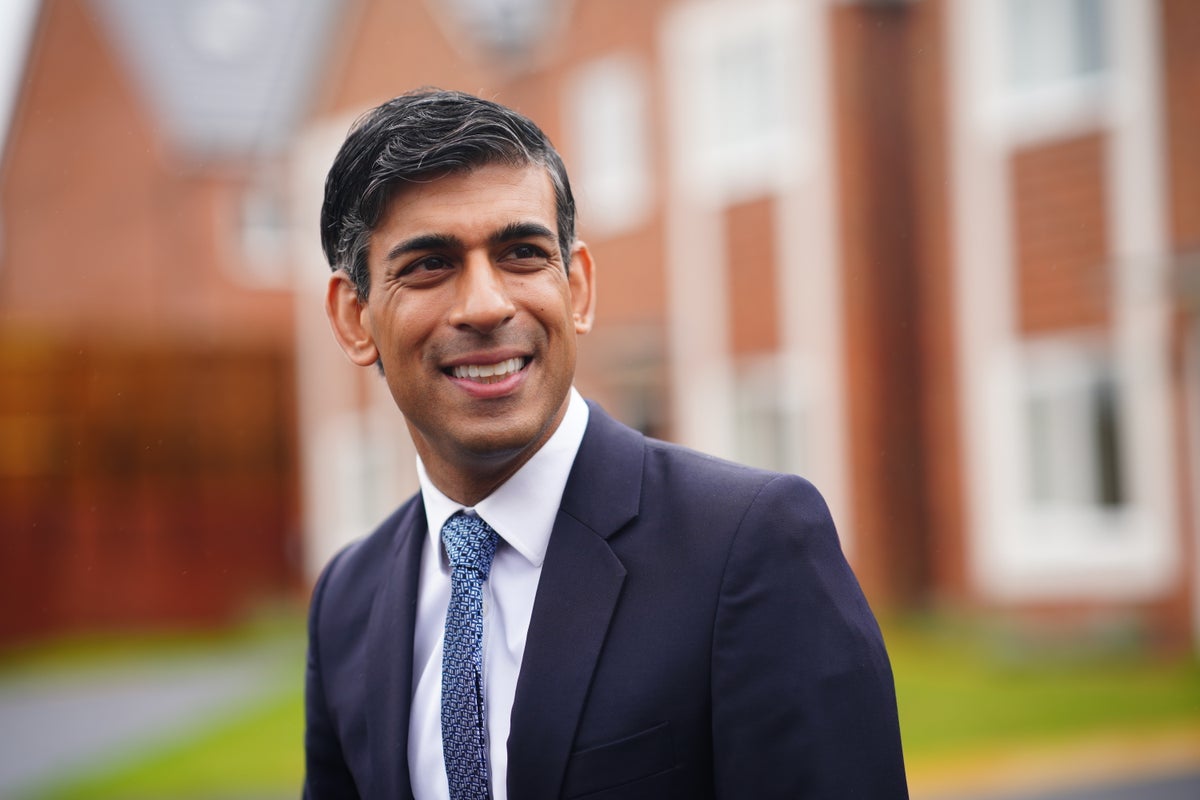 The government's plans to tackle the climate emergency have been thrown into turmoil as Rishi Sunak has indicated it may delay or even abandon green policies that put financial strain on families.
The prime minister is rethinking his green agenda after pressure from right-wing Tory MPs to win over voters after the party narrowly won by-elections in Uxbridge and South Ruislip last week.
Downing Street has been forced to stick to its pledge to reach net zero by 2050 "still", but the prime minister's spokesman said he was "making sure we listen to consumers and businesses" and would "constantly scrutinize" plans such as banning sales of new petrol and diesel cars by 2030.
Other policies under scrutiny include the government's plan to phase out gas boilers by 2035.
Both initiatives "remain our commitment", Mr Sunak's spokesman said, but the prime minister would take a "proportionate and pragmatic" approach to make it easier for families already under financial strain from high inflation.
Number 10 also made it clear that ministers are examining current net zero pledges "in light of some cost-of-living challenges".
"I don't want to add to that, I want to make it easier," Sunak said during a visit to Worcestershire.
He added, "So, yes, we're going to make progress toward net zero, but we're going to do it in a proportionate, pragmatic way that doesn't cause people unnecessarily more trouble and more cost in their lives."
His comments came hours after Secretary of State Andrew Mitchell was initially vague about the 2030 ban on petrol and diesel cars until he insisted, pressured, that it would "remain in place".
When asked if it would stay that way, he said, "Well, all I can say is that it is," but when challenged again said, "Well, I'm afraid I can't predict the future."
It comes after days of pressure on the government from Tory MPs to delay or drop plans to reach net zero carbon emissions by 2050, in a bid to win back voters.
The cost of green policies to consumers was highlighted by the Conservative Party's narrow victory in the Uxbridge by-election, which was driven almost entirely by London Mayor Sadiq Khan's opposition to ULEZ expansion.
Mr Sunak's suggestion that the government could scale back some green policies has drawn heavy criticism from the Green Alliance Foundation.
Deputy Political Director Chris Venables said the only "relative and pragmatic" response to the climate crisis is to "pull every possible lever" to get to net zero.
"It is disappointing to see government and the opposition waver this weekend, especially during a period of severe weather, and in the face of all the evidence that acting now will save lives, rebuild our economy and protect the future of the planet," said Mr Venables.
A government source said there are no ongoing discussions to review the current net-zero policies. A Downing Street spokesperson said: "2030 remains our commitment, and of course it's right to listen to consumers and businesses, so our path to net zero is proportionate and practical."
But he suggested that ministers draw lines around some net-zero policies, while others could be relaxed or scrapped. times It reported Monday that officials are considering "waiving Aston Martin" from the 2030 deadline, which would give small automakers more time to convert to electric cars.
She added that low-traffic neighborhoods are also facing lockdowns, and landlords will be given more time to meet energy efficiency targets.
It came as Sunak said he did not want policies tackling the climate crisis to "annoy" families.
The prime minister said he wanted to act in a "proportionate and pragmatic" way that did not "unnecessarily" affect life as he came under pressure from the right of his party.
And he insisted on Monday that getting to net zero is important to him, after accusations that he was "not interested" in the environment.
But he did not specifically recommit to banning the sale of new petrol and diesel cars from 2030 amid tensions over policies to address the emergency.
The Conservatives narrowly held Oxbridge last week and Tory MPs were calling for Mr Sunak to reconsider his environmental plans.
Former business secretary Sir Jacob Rees-Mogg and Danny Kruger, co-leader of the neoconservative group of Tory MPs elected since the Brexit referendum, are urging the prime minister to reconsider deadlines for green initiatives.
Sir Jacob said scrapping "costly and unpopular" policies would be a "real opportunity" and suggested scrapping the ban announced in 2030 during Boris Johnson's premiership.
But Mr Sunak has also faced allegations of environmental indifference from some Tory constituencies, with Tory Lord Zack Goldsmith resigning as minister after Mr Sunak was accused of being "unconcerned" about the environment.
Mayor of London Sadiq Khan is sticking to his policy of extending "Ollies", a daily £12.50 fee for cars that don't meet emissions standards, to the outskirts of the capital.
Labor leader Sir Keir Starmer had urged him to "think" about policy designed to cut air pollution after Labor failed to take Uxbridge by 495 votes.