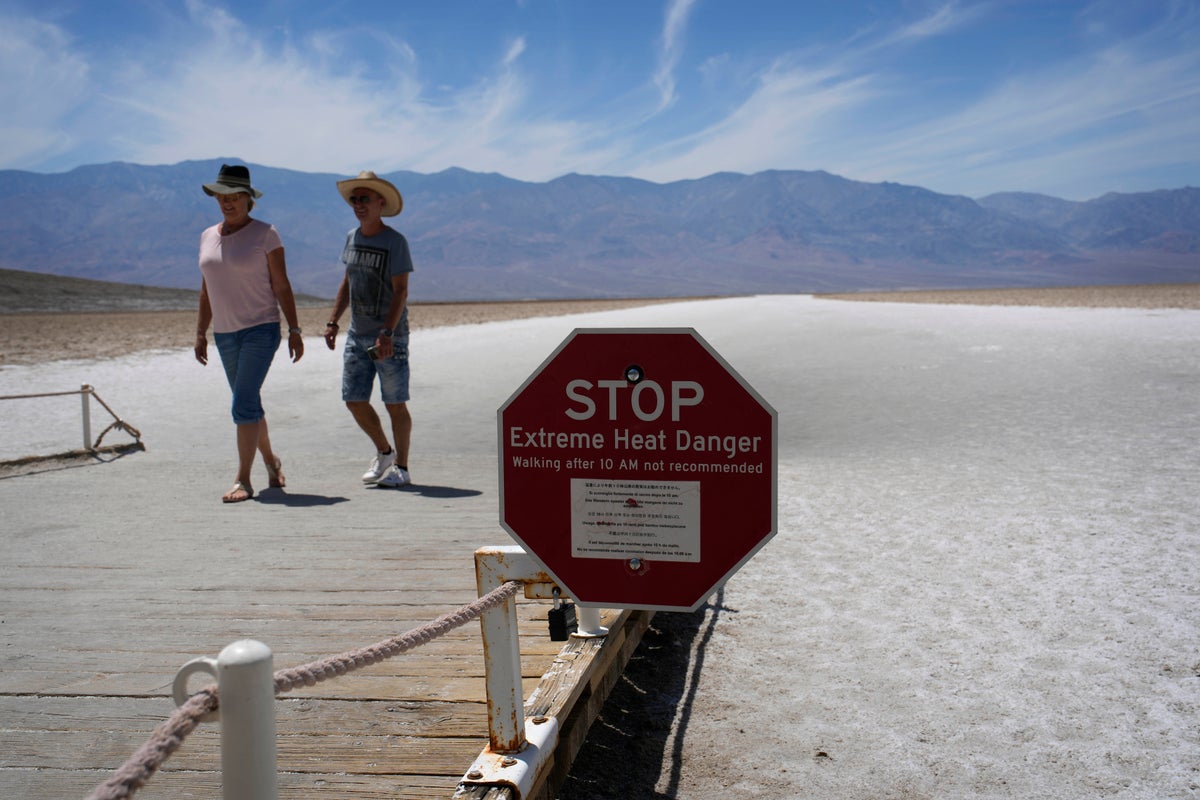 Extreme heat fueled by the climate crisis is believed to have killed at least five people in US national parks since June 1, according to figures from the National Park Service.
Fatalities exceeded the average number of heat-related deaths over an entire summer in a typical year, and August, the deadliest month for parks is yet to come, fatality data provided to CNN open.
The deaths occurred in temperatures over 100 F (38 C) across three national parks – Death Valley in California, Big Bend in Texas, and Grand Canyon National Park in Arizona.
On July 18, it was announced that hiker Steve Curry, 71, had died after collapsing outside a restroom on Golden Canyon Trail in Death Valley.
Curry was ordered by A.J Los Angeles Times Hours before his death, why was he walking around in a temperature of 121 F (49 C). "Why would I do that? Why not?" he replied.
A 14-year-old Orlando boy died in Big Bend after hiking in 119 °F (48 °C) conditions on June 23, while his stepfather died in a car accident while calling for help.
A 65-year-old man died in the same park on 1 June.
On July 2, a 57-year-old hiker in the Grand Canyon was declared dead after rangers received reports that a struggling hiker had been lost in the 114 F (46 C) heat.
A 65-year-old man was found dead in his car at the side of the road in Death Valley National Park on July 5.
A National Park Service spokesperson said CNN Heat-related deaths have been difficult to track, and the true number of deaths in recent years can be revised upward once death reports are confirmed with state and local agencies.
The spokesperson said there have been 68 reported heat-related deaths in the parks since 2007, but that statistics from recent years could be adjusted "further".
Across the planet, heat waves fueled by the climate crisis, combined with a warming El Niño phenomenon, set thousands of new temperature records this summer.
This was particularly evident in the southwestern United States. Phoenix, Arizona's largest city, has broken its record for consecutive days with temperatures over 110 Fahrenheit.
A recent report from Climate Central found that the climate crisis, triggered by humans burning fossil fuels, increases the likelihood of "sustained dangerous heat" five times.
A 2018 study showed that temperatures in 417 national parks in America have increased twice as much compared to the rest of the country in the past century, due to the climate crisis.
This weekend, temperatures are expected to top 130 degrees Fahrenheit in Death Valley. Signs warn hikers not to go out after 10 a.m., but many still choose to get out to experience the famous desert landscapes in sweltering conditions.
According to the National Institute for Occupational Safety and Health, the most serious heat-related illness is heatstroke, which can occur within 20-30 minutes when the body is unable to control its own temperature. The body temperature can rise to 106 F or higher within 10 to 15 minutes, causing the sweating mechanism to fail.
The National Park Service recommends that hikers pack plenty of water, salty snacks, sun protection, and light weight, light-colored hiking trails before heading out. Hikers should start walking before 10 am or after 4 pm.
If you have a heat-related illness, the NPS recommends moving to cool or shaded areas, calling 911 or stopping a guard, immersing yourself in water and agitating vigorously.